More than 55,000 visitors & participants and over 4,000 global dental brands to participate in the 3-day dental gathering
Dubai – United Arab Emirates, 20 January, 2020: Under the patronage of His Highness Sheikh Hamdan bin Rashid Al Maktoum, Deputy Ruler of Dubai, Minister of Finance and President of the Dubai Health Authority (DHA), the 24th edition of UAE International Dental Conference and Arab Dental Exhibition – AEEDC Dubai, will be held from the 4th to the 6th of February, 2020 at the Dubai International Convention and Exhibition Centre. Running under the theme 'Education and Innovation Transfer', the 3-day premier dental conference and exhibition, aims to impart the most up-to-date knowledge and explore the latest advances, new innovations and scientific breakthroughs in the field of dentistry.
AEEDC Dubai 2020 Conference and Exhibition is expected to attract more than 55,000 visitors and participants from 155 countries over the 3 days. In addition, AEEDC Dubai witnesses the participation of 167 speakers from across the globe, who will offer their insights on the most advanced topics in dentistry during 173 Scientific Sessions. Moreover, with the aim of improving the clinical expertise of dentistry professionals, 18 advanced courses and workshop sessions have been specially designed to raise awareness about the latest dental issues while 210 poster presentations updates dentistry professionals on the latest in scientific research and breakthroughs.
This year, AEEDC Dubai 2020 presents a comprehensive scientific conference program featuring highly specialized topics in dentistry such as Aesthetics, Anesthesia, Digital Dentistry, Dental Emergency, Dental Ethics, Dental Hygiene, Dental Laboratory Technology, Endodontics, Guided Implantology, Laser Dentistry, Oral Care, Oral and Maxillofacial Surgery, Orthodontics, Pediatric Dentistry, Radiology, Restorative Dentistry and Robotics in Dentistry among a few others.
New Scientific Activities & Global Forums at AEEDC Dubai 2020
Among the newly introduced specialized Forums at AEEDC Dubai include 'Digital Dentistry Society Forum', 'UCL Eastman Dental Traumatology Forum', 'Stars Meeting @AEEDC', 'AEEDC Endodontic Forum', 'Hong Kong & Lebanese Universities Dental Forum', 'AEEDC Pediatric Dentistry Forum', 'AEEDC Aesthetic Forum', 'AEEDC Oral Hygiene Forum' 'WFLD 2020 Dubai Congress'. In addition, the conference hosts 'Dental Hygiene Forum', 'Dental Education Forum', 'GCC Preventive Dentistry Forum' and 'Global Scientific Dental Alliance Meeting' and other such forums.
Pre-Conference Activities at AEEDC Dubai 2020
Meanwhile, prior to AEEDC Dubai 2020, the conference features the start of the 'Dubai World Dental Meeting – DWDM 2020' which will be held from the 1st to the 3rd of February, 2020. Additionally, 2 highly specialized conferences are taking place on the sidelines of AEEDC Dubai 2020 include 'AEEDC Dubai World Oral and Maxillofacial Surgery Conference 2020' and 'AEEDC Dubai World Orthodontic Conference 2020', running parallel to each other on the 3rd and the 4th of February, 2020.
While the AEEDC Dubai 2020 conference agenda presents dentistry professionals a great opportunity to improve their knowledge, all attending conference delegates also get a chance to earn 21.25 credit points from Dubai Health Authority (DHA), 20.5 points from American Dental Association (ADA) and 30 total credit points from Arab Academy for Continuous Dental Education (ARACDE).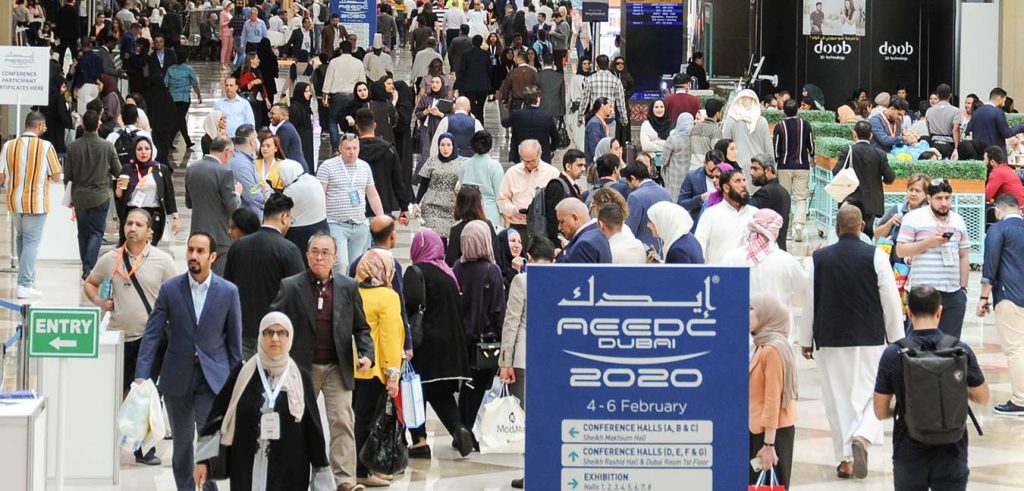 AEEDC Dubai 2020 Exhibition
This year, AEEDC Dubai launches its biggest ever exhibition, featuring an overall space of 89,250 square meter space and occupying a total of 7 conference and 11 exhibition Halls at the Dubai International Convention and Exhibition Centre. Additionally, the exhibition witnesses the participation of over 4,000 international brands displayed by 3,000 international Exhibiting Companies, who will showcase their recent breakthrough technologies, products and equipments. Moreover, this year AEEDC Dubai, features many Country Pavilions, including China, Italy, Germany, South Korea, UK, USA, Pakistan, India, Russia, Spain, France, Brazil, Japan, Switzerland, Turkey, which will host their most popular dental brands from their respective countries.
AEEDC Dubai Stars 2020:
The 24rd edition of AEEDC Dubai, witnesses the 2nd edition of "AEEDC Dubai Stars", featuring many panel discussions on life and dentistry and attracting the participation of key figures, celebrities, and influencers who share their success stories. In addition, AEEDC Dubai Stars is once again proud to host its most prominent and famous celebrity dentist, Dr. Majd Naji, Member of the American Academy of Cosmetic Dentistry and Chairman of Liberty Medical Group. AEEDC Dubai Stars also features many entertainment activities and competitions that are being held parallel to the exhibition.
AEEDC Dubai Student Competition
With the aim of celebrating the outstanding scientific achievements of dentistry professionals and inspiring the next generation dentistry students, AEEDC Dubai 2020 features the 11th annual
AEEDC Dubai Student Competition, attracting a number of dental students from many leading colleges and universities in the region.
AEEDC Dubai Awards 2020
Meanwhile, AEEDC Dubai Awards 2020, felicitates the most inspiring dental personalities and industry professionals, in many categories such as the 'Young Researcher Award', 'Best Stand Design Award', 'Best Stand Activities Award', 'Excellence in Clinical Product/Equipment Award', 'Best Clinical Photo Award' and 'AEEDC Dubai 2020 Best Speaker', award which recognizes the most distinguished leaders and innovators within the world of Oral Health for their outstanding achievements in the field of Oral Health.
Apart from featuring a number of important scientific activities and programs, AEEDC Dubai 2020 provides a dedicated platform for the demonstration of latest innovations and technologies applicable in dental treatments and also help disseminate the most critical dental education as well as scientific and technological skills for raising the standards of dentistry.
As AEEDC Dubai 2020 is recently recognized as the largest scientific dental conference in the world, the premier dental platform calls upon all speakers, dental experts and industry professionals to become its global 'AEEDC Dubai Ambassadors' and contribute in its journey towards making AEEDC Dubai, the number one dental event in the world.
AEEDC Dubai is organized annually by INDEX Conferences and Exhibitions – a member of INDEX Holding. The annual dental event is being held in strategic partnership with the General Directorate of Residency and Foreigners Affairs Dubai and the support of Dubai Health Authority, Global Scientific Dental Alliance, Arab Dental Federation, Executive Board of the Health Ministers Council for Gulf Cooperation Council States, GCC Oral Health Committee, Riyadh Colleges of Dentistry and Pharmacy, Arab Academy for Continuing Dental Education and Indonesian Association of Orthodontists and Saudi Orthodontic Society.