Dubai – United Arab Emirates, 26 February, 2020: Under the patronage of His Highness Sheikh Hamdan bin Mohammed bin Rashid Al Maktoum, Crown Prince of Dubai and President of Hamdan Bin Mohammed Smart University (HBMSU), the 13th edition of Innovation Arabia Conference and Exhibition successfully concluded at the Dubai International Convention and Exhibition Centre, after 3 days of highly enriching and productive discussions on a range of topics related to the theme 'Building the Future of Business and Innovation: The Internet of Things (IOT) and People'. The 3-day high profile innovation event, dedicated to showcasing innovation in the Arab world, attracted over 1,200 visitors and participants, comprising top researchers, scientists, innovators and academia from more than 50 countries around the world.
At the conclusion of another successful edition of Innovation Arabia 13, the organizing committee of the conference announced the theme for the 14th edition, which will be "Innovation, imagination, inspiration and sustainability", held from the 22nd to the 24th of February, 2021 at the Expo Dubai 2020 site.
Innovation Arabia 13 witnessed the signing of 3 cooperation agreements between Hamdan Bin Mohammed Smart University HBMSU and International WELL Building Institute, Land Sterling Real Estate Consultancy and Honeywell, in line with the university's commitment to work in accordance with its core principle of "Participating in Growth". The agreements provide support of international companies for Hamdan Bin Mohammed Smart University in establishing a free economic and creative zone, in line with the Dubai University Free Zones Strategy which aims to strengthen the emirate's position as a regional center for youth support and the development of education curricula and concepts that rely on innovation and technology. The move represents a major boost to the university's efforts to translate the Dubai's vision for the next 50 years in terms of creating free economic and creative zones, supported by its consistent achievements in graduating entrepreneurs, innovators, knowledge ambassadors, national builders and future makers instead of job seekers.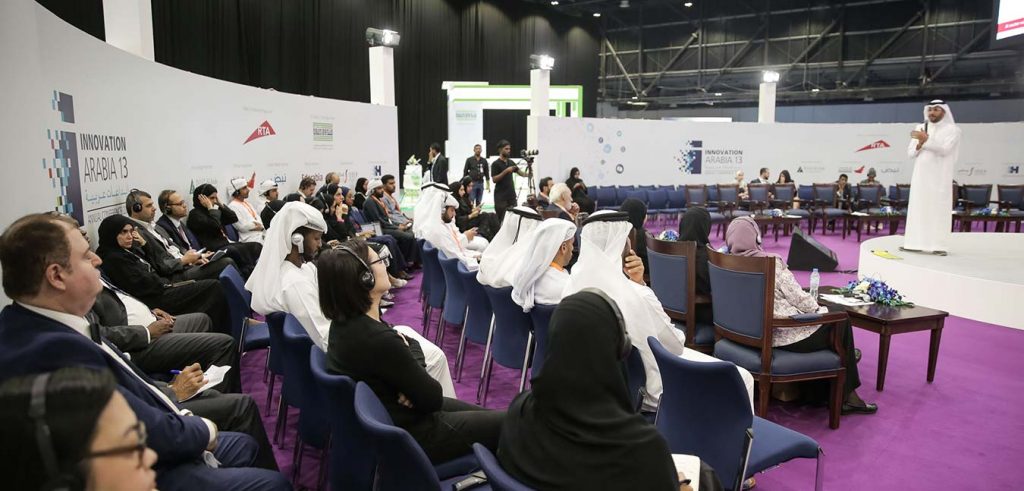 Dr. Mansoor Al Awar, Chancellor, HBMSU, said, "The success of the 13th edition of Innovation Arabia affirms its position as a leading global platform aimed at connecting bridges of research, scientific cooperation and intellectual communication among today's global leaders. The event continues in its move to maintain the foundations of the future, based on innovation, creativity, knowledge and entrepreneurship. The success of Innovation Arabia is widely attributed to the generous and continued support and patronage of H.H. Sheikh Hamdan bin Mohammed bin Rashid Al Maktoum, Crown Prince of Dubai and President, HBMSU. His show of unlimited support has greatly helped in enabling us to re-engineering the future of higher education in Dubai, which has become an attractive regional and international destination for education and learning."
Al Awar added, "This year's edition of the event was highlighted by high level discussions and consultative sessions that showcased innovation as one of the key elements and driving forces for economic growth and sustainable development. The event also witnessed the signing of strategic partnerships between HBMSU and several leading global entities, aiming at implementing the sixth principle stated in the 50-Year Charter, which was announced by H.H. Sheikh Mohammed Bin Rashid Al Maktoum, Vice President and Prime Minister of the UAE and Ruler of Dubai, and is focused on transforming universities into economic free zones that support learners across educational, research and financial levels; positioning them as prominent players in the unified efforts to pursue the economic development process."
"We are truly proud of the new partnerships that we have created at this year's event, which will help support our continuing efforts to launch a free economic and creative zone on campus. The cooperation with International WELL Building Institute is an advanced step to develop and enhance innovations of IoT related to AI, machine learning, and data analytics for the building environment, and employing it in supporting energy and operation efficiency, while our agreement with Land Sterling, which will join the HBMSU's free zone as a strategic partner, lays the foundation for constructive cooperation in priority areas, particularly smart assets management, smart buildings, IoT, smart city and entrepreneurship, embodying our vision aimed at achieving Dubai Free University Zones Strategy aiming to enhance the role of academic institutions to graduate a new generation of creative and qualified graduates to guide innovation and entrepreneurship to service the development process. We look forward with confidence towards our partnership with Honeywell, which aims to develop and lead educational initiatives to accelerate the process of assimilating building practices that will help improve people's health and enhance the health and well-being of individuals and societies. The momentum generated by the 13th edition of Innovation Arabia has inspired us to continue to employ our energies, experiences and accomplishments in organizing an event at this level of excellence and leadership, thus establishing Dubai's position as a major hub for supporting youth and developing educational curricula and concepts based on innovation and technology," Al Awar concluded.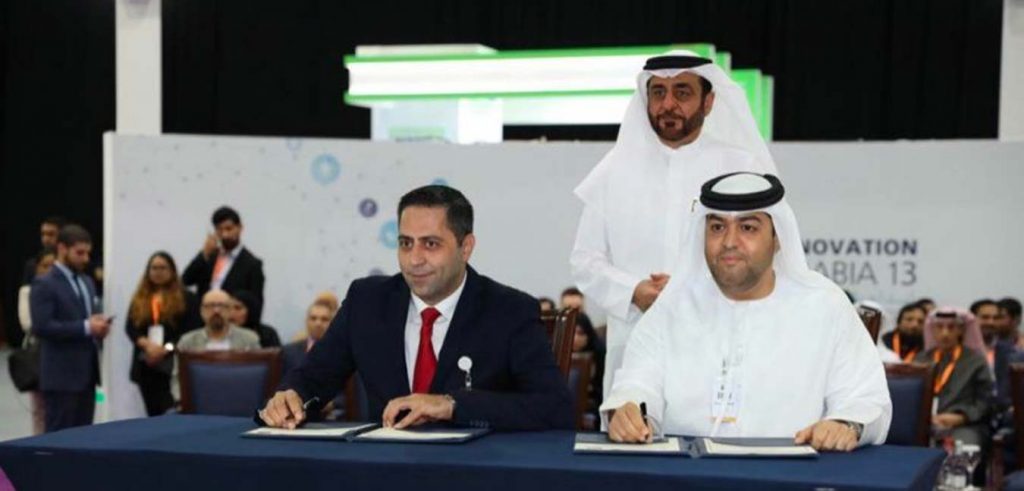 George Bou Mitri, vice president and general manager, Honeywell Building Technologies Middle East, Turkey and Africa, said: "At Innovation Arabia we marked the global launch of Honeywell Forge Energy Optimization, our latest IoT platform which will evolve building energy management far beyond what was previously possible. Hamdan Bin Mohammed Smart University has already benefited from an initial 10% in energy savings from deploying this system-agnostic advanced platform. We are strongly committed to creating a more sustainable future in the UAE and across the region through the adoption of innovative technology".
On this occasion, Youcef Betraoui Chief Executive Officer Land Sterling commented, "Our partnership with the Hamdan Bin Mohammed Smart University (HBMSU) opens the door for knowledge collaboration in Smart Asset Management, research and case studies, internship, and fostering entrepreneurship among learners."
He added, "Additionally, the collaboration provides students with the opportunity to shape the development of architectural intelligence and they get a first-hand look at the process, gaining valuable knowledge and experience that employers seek in future employees."
He further stated, "Further to this, together we aim to develop new innovative experience that would better meet the needs not only of the learners but also of the professionals and the industries we support locally and globally."
"We're really pleased to collaborate with HBMSU to help advance the growing WELL movement in Dubai and throughout the region. We look forward to working together to foster educational opportunities for industry professionals on the importance of delivering better buildings that help people thrive." – Ann Marie Aguilar, Senior Vice President, EMEA, International WELL Building Institute.
On the third and final day, Innovation Arabia 13 held promising discussions on a number of topics related to the theme 'Building the Future of Business and Innovation: The Internet of Things (IoT) and People', kicking off with a key panel discussion on 'Will we have enough Ethics to regulate the IoT?', under the Ethics and Technology Zone. In addition, under the 'Smart Cities Zone' a session was held on 'Towards Sustainable Smart Cities' while a parallel session under the 'The Future of Work Zone' was held on 'Assessment of Entrepreneurial Intensity and Internal Environment for Corporate Entrepreneurship – The Case of a Governmental Entity at an Emirate in the UAE'. Moreover, under the 'Learning & Wellbeing Zone' a discussion was held on 'A study to measure the extent to which mothers accept a wet nurse' while under the 'Ethics and Technology Zone', a session addressed the topic 'Benchmarking Best Practices in Accounting Education: The Case of the UAE'.
Additionally, more sessions were held under 'The Future of Work Zone' featuring conversations on 'The Effect of Digital Screens Exposure on Children', while additional discussions took place under the 'Learning & Wellbeing Zone' on the topic 'Assist the stakeholder perspective in planning mangroves and its environment and economic value'. Furthermore, a key discussion under the 'Ethics and Technology Zone' was held on 'Design an Intelligent Coaching System to Develop Entrepreneurship Skills among College Learners in UAE.'
Meanwhile, the opening ceremony of Innovation Arabia Conference and Exhibition featured HBMSU awards, recognizing the outstanding scientific research and leadership achievements of key decision makers from the industry, where the 'Kondo Research Prize: People and Organizational Culture Perspective' was awarded to Amina Mohammed Buallay from the Ministry of Education, Kingdom of Bahrain and The Feigenbaum Leadership Excellence Award – Rising Stars Leaders, was offered to Adeeb Sulaiman Alblooshi from the Dubai American Academy and the El Baz Award for Excellence in Corporate Sustainability, was awarded to Majid Al Futtaim Holding LLC for pursuing excellence in Corporate leadership.
Running parallel to the Innovation Arabia 13 conference, the exhibition offered many leading brands and companies from various fields and sectors a unique opportunity to showcase their latest tools and services while also giving them a chance to interact and engage with key decision makers and experts in the industry.
Innovation Arabia 13 is organized by INDEX Conferences and Exhibitions – a member of INDEX Holding, in partnership with Hamdan Bin Mohammed Smart University – HBMSU. Innovation Arabia 13 is sponsored by the Roads and Transport Authority, Dubai (RTA) and Khalifa Fund for Enterprise Development (KFED) and supported by UAE Innovates.