Dubai – United Arab Emirates, 4 February, 2020: His Highness Sheikh Hamdan bin Rashid Al Maktoum, Deputy Ruler of Dubai, Minister of Finance and President of Dubai Health Authority (DHA), officially inaugurated today the 24th edition of UAE International Dental Conference and Arab Dental Exhibition – AEEDC Dubai. Running until the 6th of February, AEEDC Dubai 2020 being held at the Dubai International Convention and Exhibition Centre, under the theme 'Education and Innovation Transfer', aims to shed new light on the latest scientific and technology advances in the world of dentistry. During the inauguration of the 24th edition of AEEDC Dubai, His Highness Sheikh Hamdan bin Rashid Al Maktoum, Deputy Ruler of Dubai, Minister of Finance and President of Dubai Health Authority (DHA) tweeted that AEEDC Dubai is the Largest International Annual Scientific Dental Conference and Exhibition in the world.
Following the inauguration, His Highness Sheikh Hamdan bin Rashid Al Maktoum, toured the exhibition, accompanied by His Excellency Humaid Al Qutami, Director General of Dubai Health Authority (DHA), His Excellency Saeed Al Tayer, MD and CEO, DEWA, His Excellency Helal Saeed Al Marri, Director General, Dubai Tourism, Dr. Abdul Salam Al Madani, Executive Chairman of AEEDC Dubai and GSDA, Dr. Gerhard Seeberger, President of the FDI World Dental Federation, Dr. Robert Edwab, Executive Director of the Greater New York Dental Meeting, heads of scientific societies and many prominent personalities and representatives from the largest dental agencies in the world. This year, AEEDC Dubai showcases its biggest ever trade show, hosting 18 country pavilions including China, Italy, Germany and South Korea where leading dental brands from their respective countries feature their latest dental tools and technologies.
On this occasion, His Highness Sheikh Hamdan bin Rashid Al Maktoum expressed his happiness and deep admiration for the outstanding growth achieved by AEEDC Dubai over the last 24 years. His Highness praised the active role played by AEEDC Dubai in attracting a wealth of global dental talent including world renowned doctors, specialists and industry experts from across the globe to visit Dubai and witness the most modern technology advances in dentistry practice. His Highness also wished the organizers and everyone attending the event great success in their endeavors over the next few days at AEEDC Dubai 2020.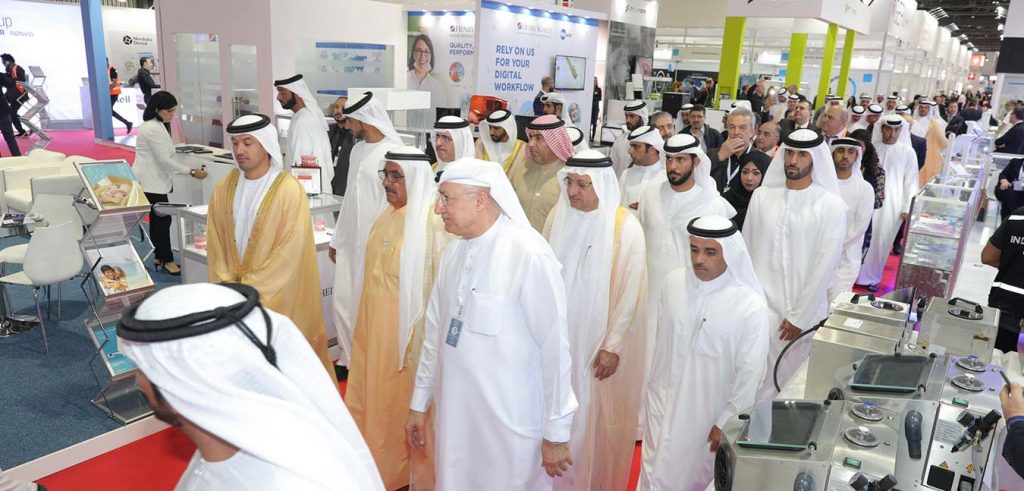 Commenting on the launch of AEEDC Dubai 2020, Dr. Abdul Salam Al Madani, Executive Chairman of AEEDC Dubai and Global Scientific Dental Alliance (GSDA), said, "In line with its reputation, this year AEEDC Dubai Conference and Exhibition is extremely keen to showcase the latest in the field of dentistry, giving doctors, dentistry practitioners and specialists in this field a unique opportunity to learn about the most recent scientific and technology advances in the oral and dental health care industry.  For the past 24 years, AEEDC Dubai has delivered outstanding dental excellence and has significantly evolved to become the most sought-after dental event in the Middle East, North Africa, South Asia region and the world. Keeping the rich legacy of AEEDC Dubai in mind, we invite all specialists, speakers and dentists to become AEEDC Dubai 2020 Ambassadors for the largest international annual scientific dental conference and exhibition in the world."
He added, "AEEDC Dubai 2020 Conference and Exhibition occupies an overall space of 89, 250 square meters and with the massive growth of AEEDC Dubai annually, we are delighted to announce that this year the conference is being held in 10 Halls while the exhibition occupies 12 Halls at the Dubai International Convention and Exhibition Centre. Over the 3-day period, AEEDC Dubai is set to attract over 55,000 visitors and participants from 155 countries around the world while the conference is witnessing the participation of 167 speakers from across the region and abroad. We are highly confident that AEEDC Dubai will be greatly helpful in providing the most up-to-date scientific dental knowledge and clinical expertise to participants from around the world."
While commenting on the occasion, Dr. Tariq Khoory, Honorary Chairman, AEEDC Dubai, said, "The 2020 edition of AEEDC Dubai is indeed very special, as it has recently been declared the largest international annual scientific dental conference and exhibition in the world. AEEDC Dubai owes it success to a rich comprehensive scientific program, covering all aspects of dentistry and addressing the most important topics related to this highly specialized field of medicine. Moreover, the presence of high-quality sessions, scientific lectures, hands-on workshops, poster presentations, student competitions and the participation of world-renowned expert speakers from the region and across the globe, makes this an ideal platform for all attendees to upgrade their skills and improve their understanding. We are also delighted that this year AEEDC Dubai exhibition presents its biggest ever trade show, attracting the leading dental brands and companies and featuring breakthrough dental technologies and equipments for the benefit of everyone attending this high-profile event."
Commenting on the occasion, Dr. Nasser Malik, Scientific Chairman, AEEDC Dubai, said, "This year at AEEDC Dubai, we have encompassed the most trending topics in dentistry and the newest technologies that are revolutionizing the dental field. We have expanded our conference program to include more scientific topics related to the field of paradental professionals and keeping in mind the business aspect of dental care. In addition to key scientific topics in digital dentistry and the latest in aesthetic dentistry materials and techniques, the program also addresses the latest advancements in stem cell use in dentistry. Considering that dentistry is a vast field with great scope and depth, we are highly confident that almost all aspects of dental care were covered in the conference, enabling anyone in the field to achieve professional growth and pursue their core scientific interests."
Dr. Nasser Malik added, "Today, stem cell therapy is the most interesting topic in dentistry, as with any medical field it can fundamentally transform the face of dental care, once we find and realize how to generate new dental tissue in humans. Although there is still a lot more to learn and understand about stem cells, we do recognize that stem cell therapy will eventually be used in dentistry as new advancements are taking us closer and closer to meet our goals."
On the first day, AEEDC Dubai 2020 addressed some of the most trending topics in dentistry such as 'Digital Sensitivity in Bone Identification', 'Aligners and Smile Design: Key Factors for Predictable Outcomes', 'The Best Root Canal Filling Material Ever', 'Endodontic Retreatment: Is It Always An Option?', 'Advantages of Dental Microscope in Esthetic Dentistry', 'Direct Composite Restorations – Potential for Improvements', 'Updates for Light Cure Technology' and 'Beyond Dental Photography'.
Furthermore, AEEDC Dubai Student Competition hosts its 12th edition, bringing together some of the most creative dental students representing 24 leading dental colleges and universities from the region and outside, where they compete for the most coveted 'AEEDC Dubai Knowledge Champion Award'. With over 173 scientific sessions and 18 advanced dental courses and workshop sessions offering advanced dental skills to dentistry professionals coming from the region and the world, the conference is also showcasing 210 poster presentations, which provides attendees an opportunity to learn about the most recent scientific advances in dentistry.
Meanwhile, the 2nd edition of AEEDC Dubai Stars was launched with the presence of a number of celebrities, social media influencers and prominent figures from the Arab world, who actively participated in a number of panel discussions, shared their success stories and popular tips that benefit dentists in improving their clinical expertise and their daily social lives.
The first session of AEEDC Dubai Stars featured a Sports Segment, where Coach Omar Moussalli offered insights to dentists about following a healthy lifestyle. The event also included a session of Dr. Majd Naji, Member of American Academy of Cosmetic Dentistry and Chairman of Liberty Medical Group, followed by the Meet the Master Draw, featuring multiple awards including a unique opportunity to train at Liberty Medical Group with Dr. Majd Naji as well as a chance to win a trip to Italy to visit the Italian dental factory 'Cefla' and appear in Dr. Majd Naji's popular 'Smile Masters' show in Italy and Dubai as well as a specialized training in veneers.
Meanwhile, at AEEDC Dubai Stars, Guest of Honor, Suzan Najm Aldeen also spoke about her success story and career while Dr. Moutaz Kokash, presented a session offering tips to promote social media platforms. Additionally, a panel discussion under the title 'Dental Technicians' featured a dialogue between CDT. Khayri AlDalati, CEO of Cologne Dental Laboratory, Mr. Abdullah Alsaj, Owner and Ceramicist, Danty Dental Laboratory and Mr. Ibrahim AlAmmari, Dental Technician (CAD-Cam Expert) on the importance of medical laboratories in the field of dentistry and the extent of support provided to doctors. Furthermore, while Dr. Fuad Tahlc spoke on a session titled 'Online Learning in the Dental Sector'.
AEEDC Dubai 2020 attendees also get a chance to earn 21.25 credit points from Dubai Health Authority (DHA), 20.5 points from American Dental Association (ADA) and 30 total credit points from Arab Academy for Continuous Dental Education (ARACDE).
This year, AEEDC Dubai exhibition witnesses the participation of over 4,000 international brands displayed by 3,000 international companies, who are showcasing their recent breakthrough technologies, products and equipments while also giving these top-notch companies an opportunity to engage and explore the local dental market and allowing them to expand their footprint in the region.
Additionally, AEEDC Dubai 2020 provides a unique technology platform for some of the biggest dental brands showcasing their latest tools and technologies on the sidelines of the exhibition. While some leading dental brands are displaying new ceramic systems and clinically established well-proven alloys and materials for aesthetic restorations, other dental companies are exhibiting the latest in digital dentistry with a flexible, reliable and easy-to-use software that can deliver esthetically demanding restorations in a single patient session. In addition, other technologies on display include Surgery Navigation Systems that can be used for many kinds of minimally invasive surgeries while also allowing digital medical imaging for better surgical accuracy.
AEEDC Dubai is organized annually by INDEX Conferences and Exhibitions – a member of INDEX Holding. The annual dental event is being held in strategic partnership with the General Directorate of Residency and Foreigners Affairs Dubai and the support of Dubai Health Authority, Global Scientific Dental Alliance, Arab Dental Federation, Executive Board of the Health Ministers Council for Gulf Cooperation Council States, GCC Oral Health Committee, Riyadh Colleges of Dentistry and Pharmacy, Arab Academy for Continuing Dental Education and Indonesian Association of Orthodontists and Saudi Orthodontic Society.