Dubai, United Arab Emirates, 27 February 2019: The 24th edition of Dubai International Pharmaceutical and Technology Conference and Exhibition – DUPHAT continued for the 2nd consecutive day at the Dubai International Convention and Exhibition Center (DICEC). Running until the 28th of February, DUPHAT is focusing on the future of pharmacy in the region as well as the evolving role of pharmacists in delivering excellence in patient care while also keeping abreast with the latest updates related to the most recent laws and regulations in pharmacy.
On the second day, experts attending DUPHAT discussed a number of topics in pharmacy such as: Drug Quality Concerns and Stakeholders Role, Adopting Technology in Combating Substandard and Falsified Medicines, The Pharmacist and Clinical Application of Genetic Modification Therapy, Advances in Pharmacy Practice; Science and Profession – Pharmacists as Clinician Educators, Patient Assessment and the Pharmacist Patient Care Process, Top 7 Career Shift Mistakes and How to Avoid Them, TDM-based precision dosing of oncology drugs: Recent evidence and implementation barriers, Supporting the Expansion of Specialty Practice Pharmacy in Hospital and Development of a Pharmacy Department Strategic Plan among others.
Additionally, the Regulation and Manufacturing Conference Program being held for the first time in DUPHAT, included key conversations such as: The effectiveness of spontaneous reporting, Understanding the approval process and legislations of Biologics and Biosimilars, Strengthening Regulatory Sciences, Patient Support Programs Guidelines and Policies, Emerging Regulatory Environment, Innovation in Clinical Trial and Supply: The Future is Now and other such topics.

Commenting on his topic 'Drug Quality Concerns and Stakeholders Role', Prof. Abdulla Molokhia, Pharmaceutics Vice President for Research, Pharco Corporation, Egypt, said, "The Quality of pharmaceutical products poses a serious challenge to all stakeholders including drug manufacturers, distributors, retailers and even the consumers, who participate in executing and administering a successful drug policy. According to WHO, although the availability and affordability of high-quality medicines topped the list of international concerns for many developing countries, the quality of drugs cannot be ignored as they lead to the influx of counterfeit and poor-quality drug products in many markets all over the globe. While pharmaceutical industry has put in place a number of checks and balances to safeguard the interests of drug manufacturers and ultimately the patients by improving drug storage conditions, plugging supply chain threats and imposing stricter regulatory controls, consumers still play an important role in drug quality administration."
On the sidelines, DUPHAT conference featured a number of workshops to enhance and improve the understanding of practicing pharmacists and professionals from the industry focusing on many topics such as 'I Want This Job: Evaluating Your Interview Skills', Essential Framework for Pharmacist Patient Communication: Improving Patient Outcomes and The Next Transition in Community Based Pharmacy Practice' where experts in pharmacy shared their insights and experiences on the latest in pharmacy with industry professionals.
In addition, a special workshop was held on the topic 'Pharmacists Contribution to Change in the Year of Tolerance' to offer patients a platform to share their patient journey prior to moving to Dubai while also giving pharmacists a chance to learn about patients demands and expectations first hand. During the workshop, industry experts highlighted that while a lot of emphasis is put on improving the quality of medicines and manufacturing, in order to improve the overall quality of healthcare, the general lack of tolerance in the healthcare system needs to be addressed in great measure. Considering that the UAE is celebrating the Year of Tolerance this year, it was stressed that pharmacists in Dubai and the rest of the UAE should interact more with patients and learn about their various backgrounds, as one of the reasons patients move to the UAE is because it presents a tolerant and inclusive healthcare industry.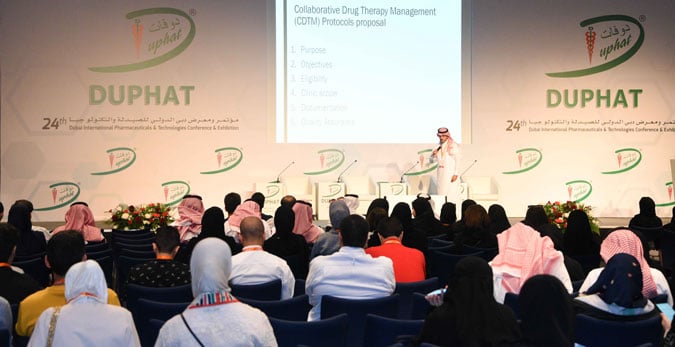 Furthermore, DUPHAT hosted the 2nd Student Pharmacist Patient Counselling Competition, to encourage the student pharmacists in their efforts to become better patient counsellors. This competition focused on the changing and evolving nature of pharmacy practice while also exploring the role of the pharmacy students as healthcare providers and educators.
Running parallel to the conference, DUPHAT Tech Exhibition is featuring the presence of the region's leading brands in drug manufacturing, pharmaceuticals as well as the biggest drug technology companies from the UAE and abroad. In addition, India and China pavilions hosted some of the top pharmaceutical companies, offering local, regional and international visitors, participants and industry professionals a great opportunity to network and expand businesses in the region.
Keeping this in mind, a first of its kind meeting place for industry professionals in pharmacy, namely the Pharma Business Hub, hosted an exclusive Hosted Buyers Program and continued to feature a number of business to business meetings to generate revenue and facilitate collaboration opportunities.
DUPHAT is organized annually by INDEX Conferences and Exhibitions – a member of INDEX Holding in strategic partnership with General Directorate of Residency and Foreigners Affairs (GDRFA) Dubai and is supported by Dubai Health Authority, International Society for Pharmacoepidemiology, European Society of Oncology Pharmacy, European Federation for Pharmaceutical science, European society of Clinical pharmacy.