Dubai – United Arab Emirates, 6 February, 2020: Under the patronage of His Highness Sheikh Hamdan bin Rashid Al Maktoum, Deputy Ruler of Dubai, Minister of Finance and the President of Dubai Health Authority (DHA), the 24th edition of UAE International Dental Conference and Arab Dental Exhibition – AEEDC Dubai 2020, which is the largest annual scientific dental conference and exhibition in the world, successfully concluded today at the Dubai International Convention and Exhibition Center (DICEC). The 3-day premier dental conference AEEDC Dubai 2020 registered a remarkable presence of top-notch speakers and experts offering their insights during the scientific conference while also featuring the participation of over 66,000 visitors and participants from over 155 countries from the region and the world.
While commenting on the successful conclusion of AEEDC Dubai 2020, Dr. Abdul Salam Al Madani, Executive Chairman of AEEDC Dubai, said, "We are very proud to announce the conclusion of the 24th edition of AEEDC Dubai 2020 Conference and Exhibition which provided an inclusive scientific platform, disseminating the most up-to-date scientific knowledge related to all aspects of dentistry. For over two decades, AEEDC Dubai has been consistently ranked among the top dentistry platforms in the world, helping industry professionals to improve their knowledge and clinical practice while also showcasing cutting-edge technologies and equipments that are revolutionizing the field of dentistry. With such an outstanding legacy, AEEDC Dubai has witnessed a huge success this year, with over 3.5 billion dollars in business deals signed during the 3-day event. On this occasion, I would like to thank all our supporters, speakers, key stakeholders, industry, exhibitors and our ambassadors of AEEDC Dubai, who have collectively made this gathering, the world's largest annual scientific dental conference and exhibition in the world."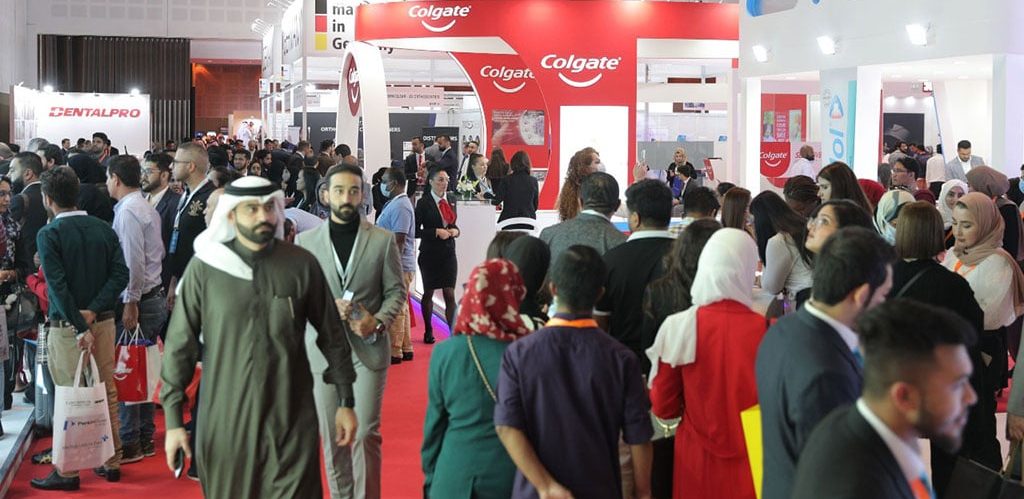 Commenting on his participation, Dr. Jose Manuel Navarro, Certified Periodontist and Implantologist, Spain, said, "During my lecture, I spoke about the way we envision the future of orthodontic treatment with aligners by non-specialist orthodontists. My area of focus is dental implants, bone reparations and prosthetics and recently, with the aid of recent breakthroughs in cloud dentistry, we have been able to treat complicated dental cases with aligners. Today, we are able to take all preliminary images using digital smile technologies and share them in the cloud, which is allowing us to plan for the orthodontic phase from a distance digitally using jointly designed aligners."
He added, "The introduction of cloud dentistry, telemedicine and the imminent way in which we are able to diagnose digitally is certainly changing the dental profession and the way it is practiced. It has indeed become a necessity to deliver the gold standard of dentistry in years to come."
Commenting on his participation, Dr. Paul Ashely, Senior Clinical Lecturer, United Kingdom, said, "AEEDC Dubai 2020 presented a broad and varied set of scientific dental topics which were relevant and interesting to dentists coming from across the region and the world. During my lecture topic 'Dealing with the Pediatric Dental Trauma Patient' I highlighted some of the most important factors to consider when faced with a child who has had a dental trauma. In particular, I stressed that there is a need for greater understanding about the impact of oral microbiome on oral and general health. In regards to pediatric dentistry, I believe that the failure to manage the high levels of dental decay especially in deprived and inaccessible populations is a major challenge for dental practitioners and more needs to be done in this regard."
On the sidelines of AEEDC Dubai, the Lebanese University, represented by its President, Professor Fouad Ayoub, and in the presence of the Dean of the Faculty of Dental Medicine, Professor Toni Zeinoun, a token of appreciation was awarded to Dr. Abdul Salam Al Madani, Executive Chairman of AEEDC Dubai Conference and Exhibition, in gratitude for his efforts in various fields of science and medicine and the advancement of the dental sector in the region. Furthermore, the students of the Lebanese College of Dentistry participating in AEEDC Dubai's Dental Students Competition have also presented an additional token of appreciation to Dr. Abdul Salam Al Madani for the support offered during AEEDC Dubai 2020.
On the third and final day, AEEDC Dubai 2020 featured discussions on many important scientific dental topics such as 'Modern Concepts to Approach a Full-Mouth Rehabilitation: From the Analogical to the Digital World', 'Digital Workflow Accuracy of Implant-Supported Restoration', 'Unleashing the Power of Self-Directed Learning', 'Shaping the Future of Dental Education Integrating Scientific Discoveries and Technological Advancements', 'Prediabetes and Dental Implant Care', 'Laser-Assisted Periodontal and Periimplantitis Treatment', 'Chemical Plaque Control Strategies: How to Enhance the Clinical Outcomes', and 'Pearly Whites from Silver to White? Zirconia Crowns in Pediatric Dentistry'.
Meanwhile, AEEDC Dubai 2020 hosted the GCC Preventive Dentistry Session highlighting the need to encourage dental care among residents and populations in the GCC region, particularly with the rise of oral and dental challenges. Experts attending the Session also spoke about the need to improve the levels of awareness and inculcate good dental hygiene, particularly keeping the interests of children in mind.
AEEDC Dubai Night 2020
Meanwhile, AEEDC Dubai Night, featured many entertainment activities and awards to celebrate the excellence in dentistry in the region and recognized the phenomenal role played by local and international dentistry in raising the bar of dentistry on par with international standards.
The AEEDC Dubai Awards ceremony held at Jumeirah Mina A'Salam Hotel in Dubai, recognized leading doctors, specialists and dental professionals for their invaluable contribution in their respective fields of dentistry.
The ceremony was attended by Prof. Abdullah Al Shammery, Scientific Chairman, Global Scientific Dental Alliance (GSDA), Dr. Abdul Salam Al Madani, Executive Chairman of GSDA and AEEDC Dubai, Dr. Tariq Khoory, Honorary Chairman – AEEDC Dubai, Dr. Nasser Al Malik, Scientific Chairman, AEEDC Dubai, Dr. Robert Edwab, Executive Director, Greater New York Dental Meeting, Dr. Mohammed Jafar Abedin, Scientific Vice Chairman, AEEDC Dubai, Dr. Meshari Al Otaibi, President, Makkah International Dental Conference and Exhibition, Eng. Anas Al Madani, Vice Chairman and Group CEO, INDEX Holding, Mohammed Hasan Al Jishi, Former President, Arab Dental Federation, Emirati Artist Abdullah Bilkhair, Dr. Majd Naji, Member of the American Academy of Cosmetic Dentistry and Chairman, Liberty Medical Group among other dignitaries, VIP's and participants of AEEDC Dubai 2020 conference and exhibition.
Furthermore, the 'AEEDC Dubai Personality of the Year Award' was awarded to His Excellency Dr. Khaled Abdel Ghaffar, Minister of Higher Education & Scientific Research of Egypt, and was received on his behalf by Dr. Raafat Hassan Anwar Reyad, Chief of the Egyptian Armed Forces Oral and Dental Health Care Services of Egypt. In addition, the AEEDC Dubai International Recognition Award for contribution to global Oro-Dento-Facial Education was offered to Dr. Stanley Malamed, renowned oral anesthesiologist and Professor of Anesthesia Medicine, while the AEEDC Dubai Award for the Most Distinguished Community Personality was awarded to Dr. Majd Naji, Member of the American Academy of Cosmetic Dentistry and Chairman of Liberty Medical Group for his outstanding contributions to the Oral Health Profession. Meanwhile, the AEEDC Dubai Artistic Personality of the Year Award was presented to Abdullah Bilkhair and AEEDC Dubai Ambassador Award went to Dr. Rana Al Sowi from Egypt. AEEDC Dubai Night concluded with a number of dance and entertainment performances by leading Emirati Folk Artists and various local entertainment groups from the UAE.
AEEDC Dubai Stars 2020 Concludes:
AEEDC Dubai Stars 2020 event also concluded with a number of panel discussions, dialogue sessions and entertainment activities, which began with a session on 'Media and Content Creation in the fields of beauty and fashion' by Sossi Wartanian, Editor in Chief, Layalina Magazine followed by a session on 'Bone rehabilitation and the treatment of various problems' by Dr. Adel Roujoula in addition to a session on the 'Secrets of success in the digital world' presented by Dr. Mohamed Sadekli, Orthodontist, Dr. Abdulrahman Jaafary, Founder and Managing Director of Jaafary Smile Center and Dr. Ahmad Jarbou, Medical Director and Founder of Jory Medical Center. AEEDC Dubai Stars also witnessed a number of competitions in which participants won many awards and prizes. The event was attended by many celebrities, influencers and dentists from the region and abroad.
AEEDC Dubai Stars event included the 'Meet the Master' Draw, featuring multiple awards including a unique opportunity to train at Liberty Medical Group with Dr. Majd Naji as well as a chance to win a trip to Italy to visit the Italian dental factory 'Cefla' and appear in Dr. Majd Naji's popular 'Smile Masters' show in Italy and Dubai as well as a specialized training in veneers.
Running parallel to the conference, the AEEDC Dubai Exhibition occupying an area of 89,250 square meters, featured the presence of 3000 exhibitors and 4000 dental brands showcasing state-of-the-art technologies and latest tools. In addition, the exhibition witnessed the participation of many premier dental brands from many countries such as Italy, Germany, South Korea, the United Kingdom, USA, China, Pakistan, India, Russia, Spain, France, Brazil, Japan, Switzerland and Turkey among others.
AEEDC Dubai is organized annually by INDEX Conferences and Exhibitions – a member of INDEX Holding. The annual dental event is being held in strategic partnership with the General Directorate of Residency and Foreigners Affairs Dubai and the support of Dubai Health Authority, Global Scientific Dental Alliance, Arab Dental Federation, Executive Board of the Health Ministers Council for Gulf Cooperation Council States, GCC Oral Health Committee, Riyadh Colleges of Dentistry and Pharmacy, Arab Academy for Continuing Dental Education and Indonesian Association of Orthodontists and Saudi Orthodontic Society.