Dubai – United Arab Emirates, 7 February, 2019: The 23rd edition of UAE International Dental Conference and Arab Dental Exhibition – AEEDC Dubai, the largest dental event in the MENASA region and the second largest in the world, successfully concluded today at the Dubai International Convention and Exhibition Center (DICEC). The success of this 3-days global event was witnessed by more than 50,000 satisfied visitors and participants from 155 countries around the world.
Commenting on the conclusion of AEEDC Dubai 2019, Dr. Abdul Salam Al Madani, Executive Chairman of AEEDC Dubai Conference and Exhibition and the Global Scientific Dental Alliance said, "We are indeed delighted to witness the successful completion of yet another edition of AEEDC Dubai conference and exhibition, which has reached many milestones over the past few years and achieved a remarkable participation this year as well from renowned dentists, specialists, and speakers from all over the world."
Dr. Al Madani added: "On this occasion, I am happy to announce that AEEDC Dubai 2019 surpassed our expectations and completed business deals worth 3.1b dollars and this is largely due to the continuous growth of healthcare infrastructure in the GCC region, massive investments in the regional healthcare sector and quick access to advanced medical technologies. Also, I would like to take this opportunity to thank our esteemed guests, speakers, partners, exhibitors, visitors, and the 1,500 ambassadors of AEEDC Dubai from the region and the world who are supporting AEEDC Dubai to rank first by 2020 as the world's largest dental conference and exhibition."
While speaking about his participation and key highlights of the conference program, Dr. Mohamed Sherine Elattar, Professor of Prosthodontics, Alexandria University, Egypt said, "It really feels great to be a part of AEEDC Dubai, which has truly established itself as the ultimate dental event in the region since its inception. AEEDC Dubai featured a number of key discussions on a wide range of topics in dentistry such as Digital Dentistry Forum, Endodontics, Implantology, Pediatric Specialty Forum, GCC Preventive Session, Prosthodontics and Elderly Dental Care among other topics. Considering that the dental industry is undergoing many rapid technological changes, my endeavor was to put the spotlight on the latest in 'Prosthodontics'."
He added, "In regards to the latest trends in the Prosthodontics industry, we believe scanning is steadily getting a lot of attention with the advent and growing usage of 3D technology for dental treatments. In addition, while Hollywood Smile Fashion is in vogue and more and more patients want to wear that perfect smile on their faces, as specialists it is mandatory to have an advance knowledge on this topic, before attempting to offer patients any such treatment modality. As technology is moving so fast and in many cases surpassing the dentist's knowledge, it is important for dentists to raise their knowledge and keep up-to-date with the latest technologies."
According to Gianpaolo Bruno, Trade Commissioner to the UAE, Oman and Pakistan, ITA: "Continuous research ensures the safety and quality of 'Made in Italy' brands, which is well known and appreciated in the global dental industry. At the Italian pavilion, many companies specialized in the design and manufacturing of technologically innovative materials for the most sensitive dental procedures showcased their dental technologies and services. Our participation in AEEDC Dubai comes at a time when in the first 10 months of 2018, Italian exports to the UAE showed a growth of almost 5% compared to 2017. With events like AEEDC, we can continue to sustain this impressive growth by bringing together Italian manufacturers and the regional dental industry to explore business opportunities."
Meanwhile, AEEDC Dubai hosted the GCC Preventive Dentistry Session, that aims to encourage dental care among residents and populations in the GCC region while also raising awareness about the need to maintain a good dental hygiene, particularly among children. Experts highlighted that a strict oral hygiene routine and dental care regimen such as brushing twice a day and flossing teeth regularly will not only help in avoiding cavities, gum disease and enamel wear but also support prevention of tooth decay.
On the third day, AEEDC Dubai 2019 featured a key signing ceremony 'Memorandum of Understanding & Barter Deal Agreement' between INDEX Conferences and Exhibitions and Korean Dental Industry Association, in the presence of Eng. Anas Al Madani, Vice Chairman and Group CEO of INDEX Holding and Mr. Hoon Taek Lim, Chairman of Korean Dental Industry Association.
Technologies at AEEDC Dubai Exhibition 2019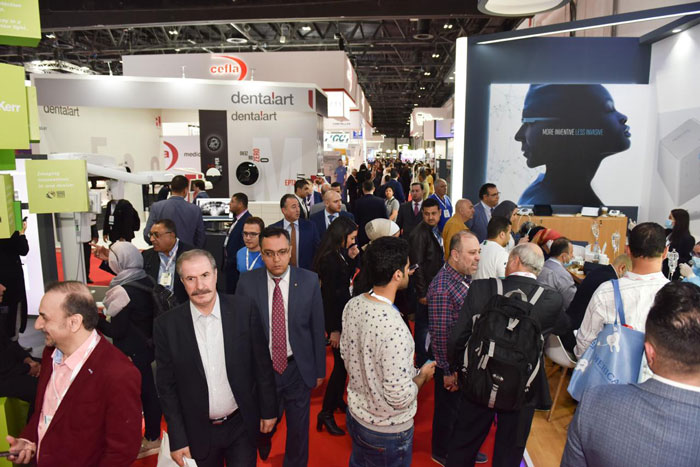 Seamless integration of new technologies into modern dentistry practice is increasingly becoming a norm and an everyday fact of life in the dental industry. With so many advancements taking place in dentistry, AEEDC Dubai Exhibition this year featured breakthrough technologies that are revolutionizing the dental markets in the UAE and around the world.
New clinical products in dentistry are making the life of a patient less complicated and more productive. Soft Tissue trimmers are used to excise and contour soft gingival tissue which result in minimal bleeding unlike radiosurgery or electrosurgery, which poses a risk of over-heating the surgical site while also compromising the bone. As many general dental practitioners and experienced surgeons are seeking faster, simpler and efficient solution for implant dentistry procedures, the exhibition played host to new range of implant and oral surgery motors, which offer a perfect solution for precise and smooth placement of implants.
AEEDC Dubai Night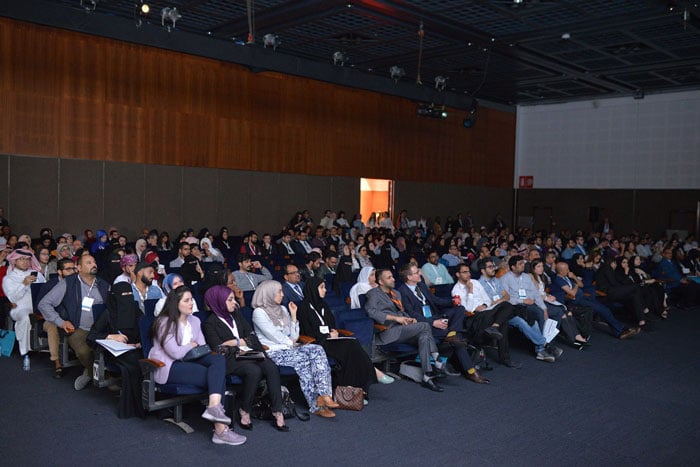 Meanwhile, in line with the AEEDC Dubai's goal to raise the bar of excellence in dentistry in the region and inspire the regional and global dental fraternity to reach new milestones, AEEDC Dubai 2019 featured 'AEEDC Dubai Night' last evening at Grand Hyatt Hotel in Dubai in order to recognize the unique contributions of the leading dentistry figures in the region. The recognition also reflects the achievements of dental specialists and professionals who laid the groundwork for a robust and stable oral and dental healthcare industry in the region.
The ceremony witnessed the presence of Maj. Gen. Mohammed Ahmed Al Marri, Director General of the General Directorate of Residency and Foreigners Affairs in Dubai, Dr. Habib Ghuloom, Culture Advisor at the UAE Ministry of Culture, Youth and Community Development as well as a distinguished UAE theatre artist, producer and a prominent Emirati Actor, Dr. Abdul Salam Al Madani, Executive Chairman of Global Scientific Dental Alliance and AEEDC Dubai, Dr. Dr. Tariq Al Khoury, Honorary Chairman of AEEDC Dubai, Dr. Nasser Al Malik Scientific Chairman AEEDC Dubai, and esteemed members of the Global Scientific Dental Alliance Executive Board Advisory Board, leading dental figures, guests, speakers, and exhibitors.
During the ceremony, AEEDC Dubai announced the AEEDC Dubai Personality of the Year Award presented to Major General Dr. Raafat Riad, Chief of the Egyptian Armed Forces Oral and Dental Health Care Services, for his outstanding contributions in the field of Oral Health.
AEEDC Dubai Stars 2019 Concludes: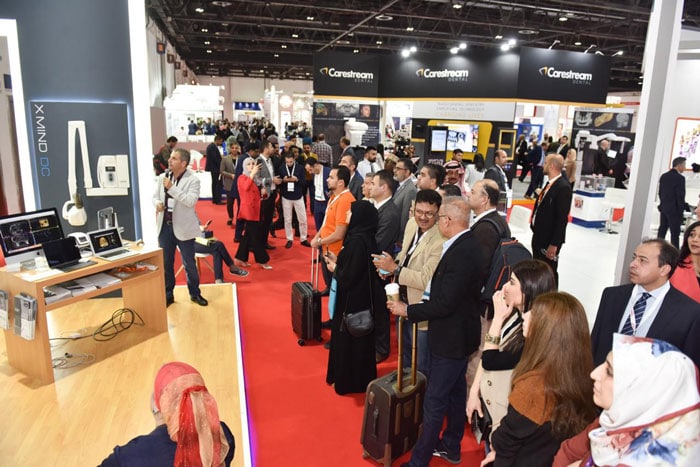 On its third and final day, AEEDC Dubai witnessed the successful conclusion of the 'AEEDC Dubai Stars 2019' program which included a series of competitions for celebrity dentists, influencers, experts and industry professionals as well as a number of fun-filled and entertaining activities.
AEEDC Dubai Stars program also featured exclusive discussions on 'Life and dentistry' while also involving key sessions on AEEDC Dubai Ambassadors, Smile Masters, Motivation Session, Success Stories and Lifestyle Tips and Tricks among other entertainment activities.
Furthermore, the 'Best Root Canal Filling" and "Best Veneers" in AEEDC Dubai Stars 2019 competitions offered dentists, students and professionals a chance to showcase their best skills in veneers and root canal filling. The challenge, involved contestants to finish the tasks in 15 minutes.
Meet the Master with AEEDC Dubai Stars 2019 competition winners got a chance to get a fully covered unforgettable training experience in Dubai and Italy with Dr. Majd Naji, Member of the American Academy of Cosmetic Dentistry and Chairman of Liberty Medical Group. This includes 3 days training in Liberty Dental Clinic – UAE, Advanced NNN Veneers Training – UAE, 2 days visit to Cefla factory – Italy and an appearance in the Smile Masters Show – Italy and the UAE.
AEEDC Dubai is organized annually by INDEX Conferences and Exhibitions – a member of INDEX Holding. The annual dental event is held in strategic partnership with the General Directorate of Residency and Foreigners Affairs Dubai and the support of Dubai Health Authority, Global Scientific Dental Alliance, Arab Dental Federation, Executive Board of the Health Ministers Council for Gulf Cooperation Council States, GCC Oral Health Committee, Riyadh Colleges of Dentistry and Pharmacy, Arab Academy for Continuing Dental Education, Indonesian Association of Orthodontists and Saudi Orthodontic Society.