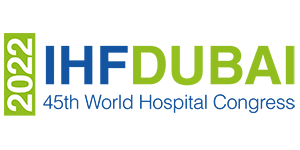 09/11/2022 - 11/11/2022
Event Date
Healthcare
Industry
Dubai
Location
Dubai World Trade Centre
Venue
The World Hospital Congress of the International Hospital Federation (IHF) dates back to 1929, when it was first held in Atlantic City, USA as a biennial event. Since 2015 it has been held annually across the globe.
The Congress is a unique global forum that brings together IHF members and leaders of hospitals, health services, and healthcare organizations to discuss key drivers of national and international policy, management, financial trends and solutions. Through this forum multidisciplinary exchange of knowledge, expertise and experiences are facilitated, together with dialogue on best practices in leadership, management and service delivery.
IHF member organizations have various opportunities to showcase their accomplishments. The event contributes to the enhancement and enrichment of the knowledge and skills of healthcare executives. The delegate make-up reflects the IHF membership which spans more than 50 countries. It is a one-stop shop for those seeking the opportunity and environment in which to engage in a 360-degree learning and knowledge-sharing experience and networking with peers from across the international healthcare community.
The 45th IHF World Hospital Congress is being hosted by the Dubai Health Authority on 9-11 November 2022 at the Dubai International Convention & Exhibition Centre (DWTC) in the United Arab Emirates. As a hybrid event, sessions will be live-streamed to virtual attendees in a dedicated event platform where they can also interact with fellow participants, presenters, exhibitors and sponsors.