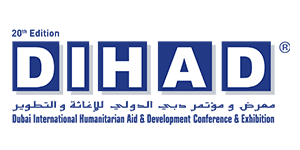 23/04/2024 - 25/04/2024
Event Date
Humanitarian
Industry
Dubai
Location
Dubai World Trade Centre
Venue
The Dubai International Humanitarian Aid & Development (DIHAD) Conference and Exhibition, established and organized in Dubai dated 6-8 April 2004, under the patronage of H.H. Sheikh Mohammed Bin Rashid Al Maktoum, Vice-President and Prime Minister of the United Arab Emirates and Ruler of Dubai, provides a platform where assistance providers can interface with relevant actors from the corporate and governmental sectors with a view to creating meaningful synergies in support of those in need.
Happening annually in Dubai, the DIHAD Conference & Exhibition serves the International Humanitarian Aid and Development Community in the Middle East, Africa and the world.
DIHAD brings together key decision-makers from leading NGOs, UN Agencies, Charity Organisations and governmental bodies, together with aid, education and construction providers from the private sector to address the needs of the people and countries affected by crises, disasters and natural calamities.
Now on its 20th edition, the event is set to be held on 23-25 April 2024 at the Dubai World Trade Centre under the theme "DIHAD 2004-2024: Humanitarian Diplomacy and a Journey to the Future".