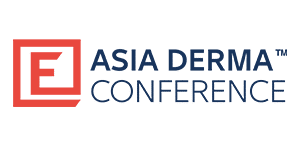 TBC
Event Date
Healthcare
Industry
TBC
Location
Venue
E-Asia Derma, Asia-Pacific's most prominent online Dermatology and Aesthetic Conference. Dedicated to dermatologists and aesthetic practitioners from the Asia-Pacific region, E- Asia Derma Conference will deliver an online scientific programme on medical and aesthetic dermatology for education purposes.
E-Asia Derma Conference allows greater audience access within the Asia-Pacific region; and provides the flexibility for participants to connect and join the conference anytime, regardless of their location.
Importantly, the online conference removes the pressure of travelling and accommodation costs associated to it. It also allows attendees to benefit from continuous education.
E-Asia Derma Conference offers a 3-in-1 platform where participants can get access to
Learning sessions from the scientific program
Networking opportunities to exchange ideas with their peers and other community members on the Derma Hub on around the clock during the days of the event
Demonstrations and workshops by brands on new products and innovations by joining the Demo Hub
At E-Asia Derma conference, learning has no boundaries.